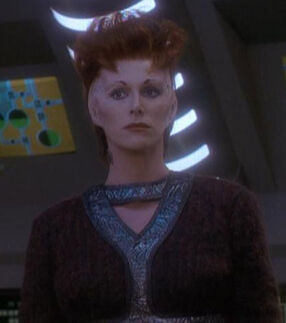 Vekor
(portrayed by Caitlin Brown) was a female mercenary who appeared in the
Star Trek: TNG
episode
"Gambit",
working with
Arctus Baran
and a group of mercenaries to find the Stone of Gol in 2370.
Vekor was present when Commander William T. Riker was abducted from Barradas III. When Captain Jean-Luc Picard, posing as Galen, mutinied against Baran, Vekor joined with him and was part of the mercenary landing party that landed on Vulcan.
She was later killed by Vulcan isolationist Tallera using the stone, which was actually a psionic resonator.
Ad blocker interference detected!
Wikia is a free-to-use site that makes money from advertising. We have a modified experience for viewers using ad blockers

Wikia is not accessible if you've made further modifications. Remove the custom ad blocker rule(s) and the page will load as expected.