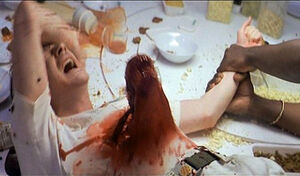 Welcome to the Movie Morgue Wiki
Edit
The Movie Morgue is a database compiling movie characters that have died and the circumstances behind their deaths. Deaths featured in any film or TV show are welcome, whether they be tragic or hilarious, subtle or violent, epic or just plain meaningless. So come on down and rack up the bodies! Be warned, though... This wiki is not for the faint of heart or weak of stomach.
Announcements
Edit
Recently, there have been several new pages added here that contain no content at all. I must stress that if anyone wishes to add any new pages here, please include some actual content and not just leave a blank space. If for any reason you start a page but cannot finish it, you can leave it half-finished so long as you mark the bottom of the page as UNDER CONSTRUCTION and/or place the page under the Article stubs category. But just making a new page title an then leaving the page blank is unacceptable. - Devo DrakeFox (02/02/2018)
To the user or users who keep copypasting Power Rangers content on this wiki: Just. Stop.
Every couple of months I find Power Rangers-related pages that have been blatantly ripped off of other sites (and not very well since [edit] markers and image links are often still included) keep reappearing here. As far as I'm concerned, nothing from the Power Rangers TV shows belongs here as the only characters to die in these shows are the monsters of the week and they all tend to get killed off in the same way. The only PR content I will allow is from the 2017 film, and even then only when it hasn't been copied from another wiki. Anyone who posts any further content from the TV shows will be immediately banned. - Devo DrakeFox (10/12/2017)
Latest activity
Edit