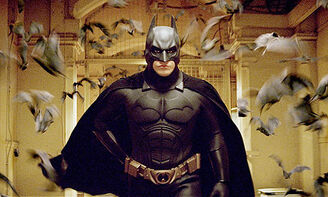 This article lists the various background character deaths that occur in
Batman Begins
, the first film in The Dark Knight Trilogy.
Bruce ignites a supply of gunpowder in Ra's al Ghul's temple which leads to the building being destroyed. An unknown number of ninjas are killed in the explosion.
The League of Shadows steal a prototype microwave emitter from a Wayne Enterprises cargo freighter, killing the entire crew in the process.
Carl Finch - A counselor in the DA's office, portrayed by Larry Holden. While investigating a suspicious crate at the Gotham Docks, he is shot in the back by Ra's al Ghul's henchmen.
When Scarecrow's toxin is released into the Narrows, mass panic ensues. People are seen being attacked by the escaped inmates from Arkham Asylum and one of them appears to be a cannibal as he is seen attempting to eat someone's face.
It is unknown how many people die in the Narrows. When Rachel Dawes finds herself surrounded by Arkham escapees, she takes a gun off a dead cop.
Ad blocker interference detected!
Wikia is a free-to-use site that makes money from advertising. We have a modified experience for viewers using ad blockers

Wikia is not accessible if you've made further modifications. Remove the custom ad blocker rule(s) and the page will load as expected.