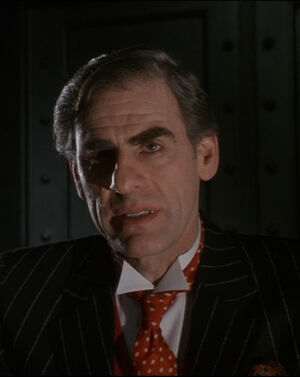 Antoine Rotelli
(portrayed by Edwin Craig) was a minor character in Tim Burton's
Batman.
A vicious criminal leader, he had misgivings regarding
The Joker's
sudden takeover of
Carl Grissom's
syndicate and didn't want to work with the clown. The Joker appeared to accept Rotelli's decision and offered to end their working relationship with a friendly handshake. What Rotelli failed to notice as he took the Joker's hand was the 40,000 volt electric joy buzzer in his palm. Rotelli began to cook as the Joker held on to his hand, and when the clown let go, Rotelli's blackened skeletal husk fell back into his chair.
Ad blocker interference detected!
Wikia is a free-to-use site that makes money from advertising. We have a modified experience for viewers using ad blockers

Wikia is not accessible if you've made further modifications. Remove the custom ad blocker rule(s) and the page will load as expected.